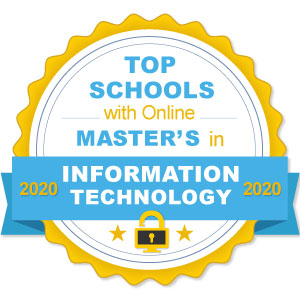 The field of Information Technology is now relevant in all sectors. Most businesses rely a great deal on their IT teams for a myriad of services. In fact, the difference between a good and bad IT team of specialists could determine success or failure for a business. And with the IT field continuing to grow, there is a constant need for new individuals working in that sector. Attaining higher levels of education in Information Technology can open up many new opportunities. Earning a Master's Degree in Information Technology increases those opportunities while also expanding an individual's earning potential.
Individuals who obtain a Master of Science in Information Technology can obtain various high-level positions which may also be at very reputable companies. Those jobs may include chief technology officer, IT manager, computer systems analyst, data scientist, web developers, and many others. The online world demands more workers with advanced degrees in Information Technology and the time has never been better to carve out a long-standing and profitable career in this industry.
An investment in a graduate-level IT degree is an investment in job security. There is no shortage of demand when it comes to IT specialists. There is no need to worry about jobs becoming scarce as information technology is a sector that is only going to expand. That means that companies and organizations on a national and international level are always going to be on the lookout for new hires. Attaining a Master's Degree in Information Technology can propel individuals to becoming top candidates for highly sought-after positions.
How Do You Quantify "The Top 20"
There are a variety of universities and colleges offering online Master's Degrees in Information Technology. That is why it is critical to examine those programs through numerous perspectives. Cost alone is not a primary factor, although some people will measure their grad school choices in terms of their budget. Fortunately, there are optimal choices for people on all types of budgets. A top education in IT is not limited to the most expensive schools. Therefore, our list is not limited to the most expensive online Master of Science programs. Instead, this list is a comprehensive take on the available options for those looking to obtain an online Master's Degree in Information Technology.
One factor that students examine in online education is the duration of a program. Programs with very fast graduation times are not always the most credible ones. But the online factor often permits students to dictate the pace of their education. This is taken into consideration but is only a minor factor. This list focuses more on schools that have a combination of resources, course offerings, and a small faculty to student ratio. Those factors all play a key role in determining the value of an education.
The value measures the quality of education with the financial cost. Programs that provide students with the most for their money are ones that are highlighted as top schools.  Recognitions form third-party entities and student reviews are also taken into consideration when compiling this list. Our goal is to showcase quality IT master's degree programs that will thoroughly prepare students for a successful future in the IT industry. This list aims to identify programs that enable students to get the most out of their graduate level experience. That pertains to cost as well as skills and knowledge attained while in the program.
The overall goal of any education is to return students into productive working professionals and arm them with more knowledge and skill. The more IT master's degrees that are earned, the stronger the IT industry will become. While the machines are capable of doing incredible things, it is still people that operate those machines. Here is a list of the top 20 Master's Degree programs in Information Technology that will help students secure a more prosperous future for themselves, their family and the global community.
Top Online Master's in Information Technology Programs