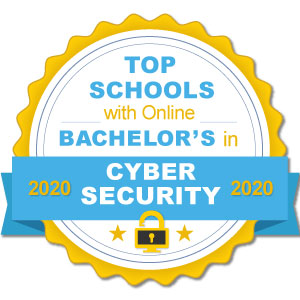 Cybersecurity is a relatively new and developing major as the field continues to evolve. That is one of the most exciting aspects as cybersecurity is always innovative and cutting edge. That is why it is imperative for cybersecurity bachelor's degree programs to stay up to date with the latest industry developments. Attaining A Bachelor's Degree in cybersecurity opens up a wealth of possibilities as graduates can pursue a career as a security architect, security engineer, incident responder, security software developer, forensic expert, security code auditor, penetration tester, Chief Infosec Officer in addition to many other roles.
These jobs are growing in demand and that has prioritized positions in the field. That translates into higher pay rates and more job security. Living in a world that essentially online means that cybersecurity is a line of defense that is a necessity. Investing in education in cybersecurity is an investment in your future. It is also a smart career choice as it is a profession that is not going out of demand as the need for professionals with this degree is only going to increase. A degree in cybersecurity can be something that spans your entire professional career.
It should also be noted that there is a current need for more cybersecurity jobs on a national and global level. Companies continue to scramble to fill positions that are of great importance and that need continues to grow. That bodes well for those graduating with a bachelor's degree in cybersecurity.
How Do You Quantify "The Top 20"
There are a lot of online cybersecurity bachelor's programs to choose from when seeking out a future in this profession. It's important to examine cybersecurity programs from a variety of vantage points. There are excellent choices among all ranges of tuition costs ranges ass the private and public university sectors often see a divide when it comes to cost. Our list has not omitted universities because of cost, but rather provides a comprehensive take on what is available to those who wish to pursue a cybersecurity undergraduate degree online.
One of the factors that most students look for in online education is the length of program. Those programs that guarantee graduation times that are extremely fast are not always the most reliable ones. However, the online component should allow students to accelerate the process if they choose. That is one criterion as it allows students to get into the working world faster and enjoy income as a professional instead of incurring debt as a student. The need is urgent as only 3% of college graduates recently had specialized skills in cybersecurity. Consider there will be an estimated 3.5 million vacant cybersecurity positions in 2021 and new graduates are going to walk right into a full-time position.
Another important group of factors considered when putting together this list is the combination of graduation rate, retention rate and faculty to student ratio. These are all strong indicators of the way the program is received by students and a lot of that has to do with the level of attention devoted on an individual basis.
We also take into consideration student reviews and recommendations, as that is a key method of understanding how well the program functions. The overall value of education is also considered, more so than the total cost. Our goal is to showcase quality cybersecurity bachelor's degree programs that will adequately prepare students for a future in this ever-growing industry. It is essentially a way of finding programs that allow you to get the most out of your tuition, as well as equipping you with the skills needed to obtain immediate employment upon graduation rates. The added benefits of some offerings also help complete this list as more resources make for a better educational experience and a better-prepared graduate. The information collected helps to provide those interested in a cybersecurity education with an array of choices from some of the nation's finest cybersecurity undergraduate programs.
Top Online Cybersecurity Bachelor's Programs