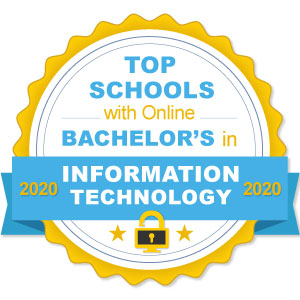 The Information Technology field is growing by the day and that has led to an increased demand for workers in this industry. However, it is an industry that prioritizes a bachelor's degree. Companies of all types employ IT, specialists, as they have become a necessity in just about every modern business. A Bachelor's Degree in Information Technology significantly boosts an individual's chances of gaining quality employment. Long-term job security is also just a bachelor's degree away as this field is full of opportunities that can span many years into the future.
The jobs available to those who earn a Bachelor's Degree in Information Technology are high in number. Some of those positions include Software Developer, Database Administrator, Computer Systems Manager, Project Manager and many more. Many of these positions come with high starting salaries and have the potential to increase with experience and time.
An investment in a Bachelor's Degree in Information Technology can open a lot of new doors. There is not going to be a downturn in the need for IT specialists which places an even greater value on this type of degree. Companies and businesses all over the country are constantly looking for new IT team members. A Bachelor's Degree in Information Technology can be the pathway that leads to many of those positions.
How Do You Quantify "The Top 20"
Universities all over the country offer an online Bachelor's Degree in Information Technology. When examining those individual programs, it is important to account for several factors. Cost is always a factor, but does not determine what is and is not considered a quality program. A quality Information Technology undergraduate education is not determined by cost alone. That is why we have not relegated this list to the costliest online Bachelor of Science programs. This list, is, instead, a comprehensive look at online Bachelor's Degree programs in Information Technology that offer the best value. There are also selections that will meet all types of budgets and needs.
One major factor in online education is the length of the program. Many students are looking to fast track their undergraduate experience. Just because there are accelerated options does not mean all are equal. This list considers quality education when examining accelerated and asynchronous programs. This list also provides an overview of universities that feature a combination of resources, courses and a low student to faculty ratio. Those factors are critical in determining the overall value of online education at the undergraduate level. Retention rates and graduation rates are also considered as they are indicators of the student experience.
The IT undergraduate programs that made this list are the ones that allow students to get the most for their money. Third-party awards and honors are considered while student reviews are also looked at in the creation of this list. The mission is to showcase Bachelor Degree programs that prepare students with a well-rounded education that will allow them to become successful professionals in the IT sector. This list helps students to locate programs that let them attain the most from their undergraduate experience.
The goal of a college education is to turn students into capable professionals, equipped with the skills needed for long-term success. The higher the number of IT degrees awarded will serve to strengthen the entire industry. Computers continue to become more advanced and that means that those who work in that industry also need to advance their knowledge and skillset. Here is a list of the top 20 Bachelor's Degree programs in Information Technology that can provide students with a promising future while also contributing to the growth of the overall industry.
Online Bachelor's In IT