50 Best Schools of 2018: Online Master's Degrees in Cybersecurity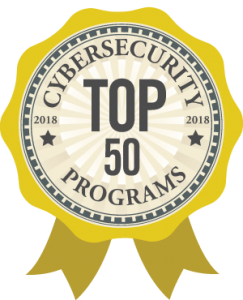 Sure, there are some legends from the early days of cybersecurity, an elite class of professionals that managed to establish a name for themselves and a bulletproof reputation on the merits of experience alone. But for the rest of us, a master's degree has become the de facto requirement to break into the field.
You can forget all about name recognition when it comes to finding the best schools. Government and private sector employers already know the schools in their region that produce the most qualified graduates. With critical information on the line and digital infrastructure to protect, they know the only thing that matters is how well a program prepares candidates for the challenges that await. This makes cybersecurity a field where quality is measured in results alone, allowing state schools to stand on equal footing with big name private universities.
This doesn't make it any easier to identify the best options out there. Especially as new programs proliferate the education space in response to the growing need for professionals in the field.
Best of the Best in Online Cybersecurity Master's Programs
There's one thing that always seems to come up when discussing the merits of a cybersecurity grad program: Is it offered through a school recognized as a National Center of Academic Excellence in Cyber Defense (CAE-CD)?
The CAE-CD is a designation jointly granted by the National Security Agency and the Department of Homeland Security to four-year schools and universities that stand out as leaders in education and research designed to further the goal of defending the nation's critical information infrastructure. The designation is widely recognized as the gold standard, and CAE-CD alum are found in high level information assurance and cyber defense positions throughout the public and private spheres. From federal law enforcement and intelligence agencies to the technology giants of Silicon Valley, the most elite cybersecurity teams all look to CAE-CD designated programs when they recruit new talent.
So how do you narrow down a list of more than 130 elite CAE-CD designated schools offering master's programs to identify the best of the best? We did it by identifying the points that are most important to prospective grad students. Virtually all grad students need a program that is flexible enough to allow them to keep working, which means it needs to be offered at least partially online. All the programs here are offered either entirely online or as hybrid programs that blend online coursework with minimal on-campus requirements. We then looked at three primary points in assessing these programs:
Additional Designations – Grad students and employers give weight to how the school's other NSA/DHS-CAE designations contribute to opportunities for research and experience, so we gave consideration to whether the school is also designated as a Center of Academic Excellence in Research (CAE-R) or Cyber Operations (CAE-CO)…
Focus Options – Many grad students are looking for programs that will prepare them for specialized roles, so we awarded points for programs that offer NSA/DHS CAE-CD Focus Areas…
Cost and Affordability – And, of course, cost is always on the mind of grad students, so we also assessed schools based on a comparative analysis of cost in each state, looking at public and private schools separately. This ensured our assessment was based on a legitimate comparison instead of just identifying the lowest cost programs.
Learn more about how we assessed these CAE-CD designated schools.
Top 50 Schools Offering Online Cybersecurity Master's Programs
Here's the 50 schools offering online programs we think you should consider. We recognize that different aspects of these programs are more important than others to grad students with different career goals. With that in mind, we set out to provide the details you need to easily make a side-by-side comparison.
This list features programs that our editorial staff hand selected to present as top recommendations. We believe the many aspects of a program that come together to create an exceptional student experience can't be reduced to numbers alone, so no formula was used to attempt to score or rank these programs. Instead, they represent our top picks based on a thoughtful review of the things we know mean the most to students. Each one of these programs offers something unique, and all come equally highly recommended. We stand behind the principal of editorial integrity and make these recommendations independently and without compensation.
Program Assessment Metrics
These 50 schools are listed in descending order based on the points awarded using the scoring system below. But it's important to mention that in the elite class of NSA/DHS CAE-designated schools, there is no universal measure for which program is best. Different schools offer different focus areas and degree options that align with specific career paths, whether in law enforcement and investigations, the software development life cycle, or in specific industries like telecommunications or healthcare. Some have a management and policy focus. Others have more robust research programs. Others, still, are deeply technical and grounded in computer science and engineering. Grad students are going to weigh the various aspects of these programs differently based on their individual needs and goals. This list represents the 50 schools offering online programs that we feel every prospective cybersecurity grad student should consider.
Specialty Options and Research Designation – 80 Possible Points
Offers NSA/DHS-Approved Focus Areas (three or more) – 40 points
Offers NSA/DHS-Approved Focus Areas (two) – 20 points
Offers One NSA/DHS-Approved Focus Area (one) – 15 points
Additionally Holds CAE-R Designation – 40 points
Cost and Affordability – 20 Possible Points
Same or Below State Average for Category (State or Private) – 20 points
Within 10% Above Average for Category (State or Private) – 10 points
Above 10% but Within 20% of Average for Category (State or Private) – 5 points
(For state schools, only in-state tuition was considered in scoring.)
Bonus Points
Additionally holds CAE-CO Designation – 30 points
Offers More Than One NSA/DHS-Recognized Focus Area – 5 points for each focus area above 3
Online + Hybrid + Campus – 10 points
Online + Campus – 5 points
Online Only OR Hybrid only – 2.5 points